AIR QUALITY ENGINEER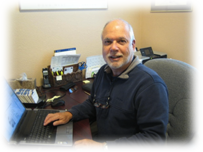 Joel is an air quality engineer with over 25 years of experience providing consulting services to governmental entities and private industry. His areas of expertise include permitting; emission inventories for criteria, fugitive dust, greenhouse gas, and air toxics emissions; regulatory analysis and compliance; dispersion modeling; air quality impact studies; and environmental compliance auditing and reporting. Joel has prepared air quality sections for numerous Environmental Impact Reports (EIRs) and Initial Studies (IS) under CEQA. He has worked on a wide variety of projects including power plants, mines, food processing, manufacturing, transfer stations, shopping centers, office parks, and other commercial/industrial developments. He has written and published technical papers, made presentations at public meetings and hearings, and provided expert testimony on a variety of air quality issues for major projects. Joel recently updated Sacramento Municipal Utilities District's policy regarding greenhouse gas emissions for environmental compliance documents.
Joel and his wife have two grown children and a young, energetic grandson. They enjoy playing golf, hiking, biking, and traveling.