Hawthorne Army Depot Groundwater Monitoring Well Installation & Sampling Hawthorne, Nevada
The US Army Corps of Engineers (USACE) awarded Burleson two task orders to install groundwater monitoring wells at Hawthorne Army Depot. The monitoring wells were needed to better delineate a gasoline plume that resulted from an underground storage tank release, pipeline leak, and maintenance activities at one site and to better delineate a chlorinated solvent plume at another site.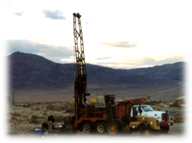 For each site, Burleson prepared work plans, associated site-specific quality assurance project plans, and health and safety plans.
Burleson obtained monitoring well waivers from the Nevada Department of Environmental Protection.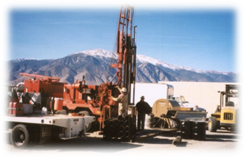 Wells were installed using 4-inch diameter polyvinyl chloride pipe to a depth of about 90 feet below ground surface using hollow stem auger drilling techniques at one site and to depths of 240 feet below ground surface using sonic drilling techniques at the second site.
Burleson's geologist logged soil borings in accordance with the Uniform Soil Classification System and oversaw the drillers, well development team, and surveyors.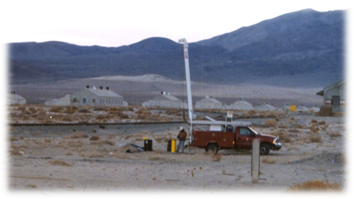 Working closely with the USACE technical team, Burleson ensured that the down gradient plume edge was defined. At the first site, the four farthest down gradient monitoring wells were installed first, developed, and sampled with a rapid analytical turnaround time. Results indicated that the down gradient plume boundary was defined, and the remaining wells were therefore installed as originally planned.
Burleson:
Collected groundwater samples from the wells for total petroleum hydrocarbons as gasoline (TPH-G), volatile organic compounds, and petroleum constituent analyses
Validated sample results and prepared summary reports
Used data from existing and newly installed monitoring wells to define plume boundaries, evaluate natural attenuation, and make recommendations for future remediation activities
Coordinated disposal of investigation derived waste