Former Titan 1A Missile Site Permanganate Pilot Test
Lincoln, California
Burleson conducted a study of in situ chemical oxidation and enhanced bioremediation for the Titan 1A Missile Site in Lincoln, California, as a subcontractor to Brown & Caldwell. Tasks included evaluating the existing groundwater extraction system at the site and determining whether in situ treatment would accelerate trichloroethene (TCE) remediation.
Burleson prepared a work plan to conduct field activities and bench scale tests. Site soil and groundwater were well characterized through previous investigations; however, to effectively evaluate site conditions that could be impacted by in situ technologies, additional site soil and groundwater were collected. Sufficient samples were collected for analysis of metals and secondary water quality parameters that could be affected by in situ technologies, and to conduct bench scale tests. Bench scale tests were completed for permanganate oxidation and hydrogen releasing compound (HRC) reductive bioremediation treatment. Burleson reviewed test results and completed a summary report with recommendations. Results from the bench scale tests indicated that both chemical oxidation (using potassium permanganate) and enhanced bioremediation (using HRC) could effectively treat TCE in site groundwater. Byproduct formation and changes in water quality were observed in both bench scale tests that would need to be addressed in a pilot test design.
Chromium was mobilized from soil into groundwater during permanganate oxidation, but slowly attenuated when in contact with untreated soil.
Vinyl chloride was produced as a byproduct of reductive bioremediation. Complete dechlorination of vinyl chloride, a TCE breakdown product, would be expected in a pilot study but could occur at a relatively slow rate.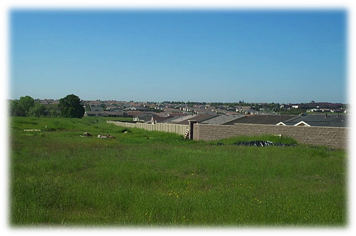 Burleson recommended that pilot studies for either in situ technology include sampling points to evaluate byproduct formation that could also act as extraction wells for hydraulic control if required. Burleson also abandoned five monitoring wells at the site under contract with the USACE, Sacramento District.