Former Fort Ord Habitat Restoration Plans, Vegetation Monitoring Plan, and Wetland Restoration and Monitoring Plan
US Army Corps of Engineers, Presidio of Monterey, California
Burleson has worked on habitat restoration projects at former Fort Ord since 2005. We developed plans for habitat restoration, vegetation monitoring, and wetland restoration and monitoring at the former Fort Ord army installation in 2005 for the US Army Corps of Engineers (USACE). Since that time we have received numerous contracts for biological surveys and habitat restoration.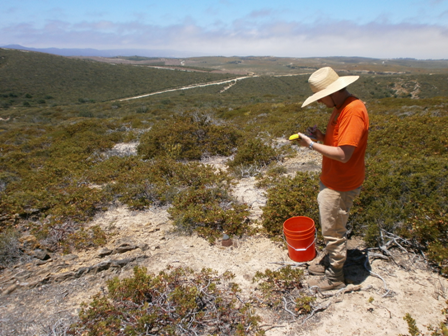 Vegetation Monitoring Protocol
Burleson reviewed vegetation monitoring data collected at remediation sites from 1995 forward and compared the data to successive species characteristics to develop success criteria for recovery of maritime chaparral and special status annual species following remediation.
Vegetation at the former Fort Ord is generally cleared from areas prior to conducting remediation activities by burning or cutting. Monitoring had generally been occurring before vegetation clearing then following remediation after 2 years, 4 years, and annually thereafter with no endpoint specified. Burleson reduced the sampling frequency significantly (1, 2, 5, and 8 years for special status annual species) and established success criteria to reach an endpoint.
Wetland Monitoring & Restoration Plan
Burleson updated the Wetland Monitoring and Restoration Plan that provides measures to minimize impacts on wetlands during munitions and explosives of concern (MEC) and contaminated soil remedial actions.
The plan detailed reasonable and prudent measures established by the US Fish and Wildlife Service (USFWS) to protect California Tiger Salamanders as well as measures to minimize wetland disturbance to be followed during remediation activities.
Habitat Restoration at Inland Ranges
Burleson received a contract in 2009 to complete habitat restoration services for soils remediation areas at the former Fort Ord. The Army is required to implement the requirements of the HMP and Biological Opinions issued by the USFWS to mitigate impacts to rare, threatened, and endangered species resulting from Army cleanup activities. Burleson's activities include developing Site Specific Restoration Plans, collecting plant material (seeds and cuttings), propagating plants in greenhouses, installing plants, monitoring successful revegetation, and attending meetings.
Experience with Environmental Regulators and Local Governments
Burleson met with the Army, USFWS Ventura office, California Department of Fish and Game, Bureau of Land Management, and the local reuse Authority to discuss habitat restoration plans. Favorable comments have been received about our approaches and restoration activities.
Burleson monitored for special status annual plants and shrubs in accordance with the Habitat Conservation Plan for former Fort Ord. This 2008 biological monitoring study was conducted as a requirement of the Installationwide Multispecies Habitat Management Plan for Former Fort Ord (HMP) and biological opinions issued by the USFWS.
The HMP:
Identifies rare, threatened, or endangered species and habitats designated for protection
Identifies future management after completion of munitions removal and other cleanup operations
Outlines mitigation measures necessary if Army-related munitions cleanup activities have significantly impacted rare species and habitats
The project involved monitoring for HMP annuals and shrubs, and exotic plants. Burleson's vegetation monitoring plan recommends monitoring be performed for rare species following completion of munitions cleanup on each site designated to be managed as future habitat for HMP-listed species over an 8-year period for annuals and a 13-year period for shrubs to evaluate success of habitat recovery. Annual monitoring results may be used for comparison with a site's baseline data to assess whether recovery and regeneration of the habitat and its associated rare plant species are proceeding toward baseline conditions.
Restoration of Reclaimed Lands
Burleson assisted with the strategy for restoration. In 2009, Burleson was awarded an IDIQ for the restoration of lands cleared of munitions by the Army. These lands had been used for munitions practice. The areas were burned, graded, and sifted with passive vegetation restoration.
Experience with Environmental Regulators and Local Governments
Burleson met with the USFWS Ventura office, California Department of Fish and Game, and the local reuse Authority to discuss the vegetation management protocol and wetland restoration plans. Favorable comments have been received about our approaches.