Farmington Groundwater Recharge
Program Environmental Assessment
Stockton, California
The USACE awarded Burleson a contract for the Farmington Groundwater Recharge Program. The program intends to replenish the Eastern San Joaquin Groundwater Basin to ensure future groundwater supply and protect against saltwater intrusion.
Long-term groundwater pumping for irrigation and industrial uses was historically in excess of natural replenishment. This dramatically lowered groundwater levels and allowed the intrusion of saline water to portions of the aquifer. The proposed action evaluated artificial groundwater recharge in accordance with a four-stage process. The four stages included:
Stage 1. Initial Site Screening
Stage 2. Pilot-Scale Recharge Testing
Stage 3. Demonstration-Scale Recharge Testing
Stage 4. Long-Term Operation and Maintenance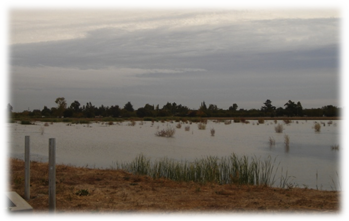 Data collected and evaluated during each of the first three stages would be used to support a decision about whether a site would advance to the next stage, be archived for evaluation at a future time, or be eliminated from further consideration for artificial groundwater recharge.
Burleson completed an environmental assessment (EA) for a Pilot-Scale Recharge Testing Program proposed at the Stockton East Water District (SEWD) water treatment plant (WTP) northwest site. This project site represented one parcel that could be used as a potential recharge area if the pilot study were successful.
Burleson completed biological and cultural resource surveys and draft EAs, assisted with SEWD preparation of their IS/MND, and relocated a burrowing owl present on the project site. Burleson coordinated with the CDFG, SHPO, and USFWS. Burleson also assisted with the design of a temporary water conveyance system and evaluated recharge water sources.
While the Farmington Groundwater Recharge Program will benefit primarily the local aquifer, local groundwater availability and quality will also improve, and water quality and abundance will increase within the Calaveras River Watershed with the recharging of the groundwater aquifer.