The Standard Mine District was comprised of 36 high-risk areas that were evaluated for closure. The sites included horizontal adits and vertical shafts and stopes. Desert Tortoise, owls, and bats were present at some of the locations, and closure schedules were adjusted to accommodate and avoid disturbances to these species.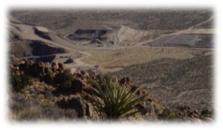 Burleson completed the Project Design and Management Plan for NPS review. The plan provided conceptual drawings of the proposed closures at each of the unique sites and identified any outstanding issues—such as biological or safety hazards—that would impede the timeliness of the project.
Safety was a primary concern for the public visitors and the construction crews on site for this project. Burleson's onsite personnel completed MSHA mine safety training. Burleson's certified industrial hygienist prepared the Accident Prevention Plan (APP) and reviewed the Activity Hazard Analysis forms.
The Project Design and Management Plan identified safety and engineering risks associated with the designs. Burleson's biologist reviewed the bat survey information that was used for determining the best approach for closure. Burleson's construction manager worked closely with NPS staff to listen to their concerns and ideas for closure. The NPS was concerned with visual impacts and wanted to allow future access for NPS personnel.
Burleson met NPS needs by providing low-profile safety grates for nonsensitive areas and bat gate for areas where bats were present, followed the BCI Bat and Mines guidance for construction specifications, and used a locked removable bar to allow biologists or NPS personnel access to these sites once they had been gated. These locks provide the highest level of security with the lowest frequency of defect.
The NPS was pleased with Burleson's work and approach. They were particularly happy with the conceptual renderings that allowed for discussion and changes prior to starting work.