Mojave National Preserve
Burleson completed habitat restoration of PSI 139—an abandoned mine site in the Mescal Range within the National Park Service (NPS) Mojave National Preserve (MNP)—and biological surveys to identify special status species that may be impacted by the construction activities.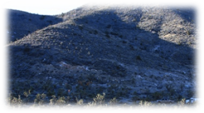 The historic prospecting operations at PSI 139 created a 3-acre visual scar near an access point to the MNP. Excavation of depressions, creation of waste rock piles, and diversion of drainages interrupted the natural flow of water across the site. During the 50 years since mining ceased, numerous protected plants—including Yucca brevifolia and cactus—colonized the waste rock piles and disturbed land surface.
Burleson's goal was to contour the site, direct surface water to original drainage ways, and establish native vegetation. The HRP defined success criteria, determined passive and active seeding and vegetation transplanting areas, provided erosion control practices, and corrective action measures. The VMP presented maintenance and vegetation monitoring methods and schedules. The intent of the VMP was to standardize monitoring and the evaluation for success.
Burleson set up a native plant nursery, identified the drainage courses, salvaged the protected native plants, filled the rock cuts and depressions, and restored the drainage flow lines. After grading was complete, Burleson planted the salvaged plants and hydroseeded the area with native seeds.
The construction and restoration was completed before the rainy season. Within a week of completion, the site received rain and snow, which are expected to enhance recovery. The project was completed under budget, and the NPS was impressed with our performance with the conceptual renderings that allowed for discussion and changes prior to starting work.