Humboldt Bay Power Plant California Energy Commission (CEC) Application for Certification Wetland Delineation, Biological & Cultural Resources Surveys & Monitoring, and Coastal Commission Consultation Humboldt County, California.
A utility company was upgrading its power plant on property near its former nuclear facility. The facility was on the coast of northern California and required permits from the US Army Corps of Engineers (USACE), Regional Water Quality Control Board (RWQCB), California Energy Commission, and Coastal Commission.
Burleson prepared the following sections of an application for certification (AFC): biological resources, cultural resources, air, geology, land use, socioeconomics, traffic, and wetlands.
Burleson met with Humboldt County and city officials on land use and permitting requirements and completed the wetland delineation and rare plant survey.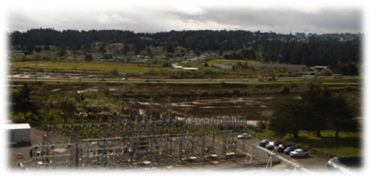 After identification of the permit requirements, Burleson assisted with the Coastal Zone Development Permit and coordinated with the US Coast Guard. Burleson's wetland delineation specialist attended agency meetings and hearings about the project.
From 2008 through 2009, Burleson coordinated teams of biological and cultural monitors to oversee construction and wetland creation at the site. The teams of biological and cultural/paleontological monitors worked 10-hour days during construction. Paleontological artifacts of significance were found and recorded. Burleson oversaw landscaping at the Humboldt Bay Power Plant and monitored created wetlands during 2010 and 2011.
Experience with Environmental Regulators & Local Governments
Burleson met with the California Coastal Commission, US Fish and Wildlife Service, USACE, California Department of Fish and Game, and the local agencies to discuss the mitigation measures.