Upper Klamath Lake Pilot Oxygenation Poject Klamath Falls, Oregon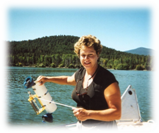 The Bureau of Reclamation awarded Burleson a contract to implement a pilot oxygenation project at Upper Klamath Lake, Oregon. The project was set up to evaluate system feasibility, complete the preliminary design and costs, and establish the public and stakeholders involvement program.
Burleson's team consisted of leading technical experts from around the United States experienced in lake restoration. Burleson coordinated stakeholders to participate in the project that included representatives from the Bureau of Reclamation, US Fish & Wildlife Service, US Geological Survey, Native American Tribes, and Water users local to the area.
Burleson completed baseline water quality sampling of Upper Klamath Lake and designed the pilot oxygenation system. The pilot oxygenation system would promote survival of endangered suckers and improve water quality in the treated area. The pilot system was designed to oxygenate 30 million gallons per day of lake water with an oxygen concentration of 40 mg/L. The project consisted of the following elements: Pilot Oxygenation Study Plan and Quality Assurance Plan, site visits, oxygenation system design, baseline water quality sampling, public involvement and stakeholder meetings, project management, and technical work group coordination.
This project was completed on time and under budget. Burleson worked closely with Bureau of Reclamation technical staff in the Klamath Falls, Oregon, and Denver, Colorado, offices.