Longfellow Mill Site Engineering Evaluation/Cost Analysis and Ecological Risk Assessment Tuolumne County, California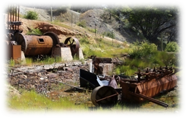 Longfellow Mill is an abandoned mill that operated from the 1850s to the 1930s. The mill processed gold ore from nearby mines and produced 24,200 ounces of gold by 1899. The mill site is at about 2,900 feet amsl, and the topography is relatively steep and forested. The site occupies about 14 acres.
Residences and a baseball diamond are in the vicinity, and a tributary to Rattlesnake Creek flows through the site. Arsenic, mercury, and cyanide may have been released to soil and water at the site.
To address data gaps remaining after completion of the removal site inspection, Burleson planned and conducted site characterization activities, which included site mapping, trenching with backhoe, field x-ray fluorescence, sampling surface water, sediment, and pore-water, and sampling soil with hand tools (includes mine waste and sediment) and drilling (geoprobe).
Site characterization tasks were planned to achieve data quality objectives developed through systematic planning in accordance with DQO Process for Hazardous Waste Site Investigations (EPA, 2000 QA/G4-HW Final) and Guidance on Systematic Planning using the DQO Process (EPA, 2006 QA/G-4). Systematic planning was completed by Burleson after development of a conceptual site model to analyze complete human and ecological exposure pathways at Longfellow Mill. Data quality objectives for risk assessment and characterization necessary to support engineering evaluations were combined to guide planning of site characterization activities. Site characterization results were used to establish site specific risk thresholds for human and ecological exposures, develop removal action objectives, and develop and evaluate engineering alternatives. Results of this work documented site risks in the human health and ecological risk assessment and identified removal actions to mitigate site risks in the EE/CA.
Community Relations Assistance
Burleson also provided community involvement support to BLM including community meeting participation, interviews to solicit concerns and information needs, and preparing a Community Relations Plan (CRP) in accordance with the EPA Superfund Community Involvement Handbook (EPA 2005). We also assisted BLM in assembling the administrative record and in preparing a notice of availability of the administrative record.