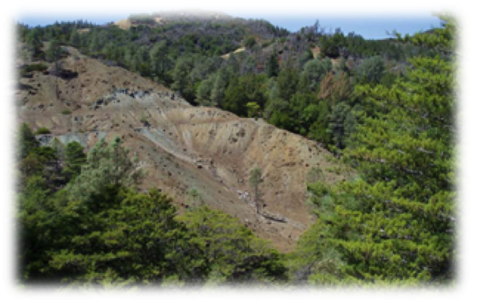 The US Department of the Interior Bureau of Land Management (BLM) hired Burleson to prepare a removal site investigation (RSI) report to evaluate the need for a removal action at the Helen Mine.
Helen Mine was discovered in 1871, and several hundred flasks of mercury were produced from 1873 to 1876.
The mine operated intermittently from 1900 to 1956 and produced about 7,000 flasks of mercury. BLM needed to know if the contamination from the site created the need for a removal action.
Data Compilation
Burleson compiled site and watershed wide analytical data for soils, sediment, water, and biota to support development of a conceptual site model (CSM) and risk screening. Burleson also identified data gaps.
Preliminary Conceptual Site Model
Burleson prepared a preliminary CSM to identify complete exposure pathways for human and ecological receptors.
Risk Screening
Site risks to humans, biota and water quality were evaluated for completed pathways shown in the CSM. Burleson evaluated:
Potential risks to human health by comparing mercury concentrations in sediment and mine waste at the Helen Mine to screening benchmarks.
Potential risks to ecological receptors by comparing mercury concentrations reported in sediment at the mine to the median risk management criteria for ecological receptors and by comparing the results of fauna sampling for mercury near Helen Mine to mercury in fauna downstream from the mine and in regional data sets.
Potential water quality impacts by comparing detected concentrations to water quality criteria.
Findings
Based on consideration of NCP removal factors and consideration of the risk screening, Burleson found that a removal action was not necessary at the Helen Mine. Burleson recommended that BLM conduct sampling and analysis to determine the mercury content of waste rock at the site. Burleson also recommended sampling and analysis of sediment in Dry Creek upstream and downstream of the tributary from the Helen Mine to evaluate impacts of this feature on the watershed.